Well our first race of the year was this past weekend, it felt great being back at the track. This was the first points race @ SCR. We primarily race at two tracks locally SCR(State Capitol Raceway) which runs there points races as 1/8 mile for Super Pro and NPR(No Problem Raceway) which runs their points races as 1/4 for Super Pro. Since we don't have a lot of seat time yet. We are gonna concentrate on the 1/8 miles races @ SCR in the early part of this year. Maybe it's the jr racer in me, but I feel more comfortable in the 1/8 mile format. As we get a better feel for the car and what we are doing, a little later we'll get in some 1/4 mile also. NPR is closer to us and a much better track but both tracks have great folks that frequent them. It was a beautiful day this past Saturday after having a good bit of rain the past few weeks, it was good to get out. The car ran great, no major problems. My youngest Jonathan and his gf Chloe joined us for the day and we had a ball. Time trials went well for us during the 2nd time trial there was a pretty major wreck that occured. One of the Quick 16 dragsters, flipped multipled times and tore up that car pretty good. The driver was bruised and beat up some, they brought him to the hospital to check him out. But I heard he was ok,....his car...not so much..... For us first round we managed to win, we dialed a 5.22 and paired up against another dragster dialed a 4.80. Jules said the guy caught him at about the 330 mark but then fell back and Jules took the win with a 5.24, to a 4.96 for the other dragster. Not sure what happened to the other car,if he pedaled which I presume as his mph was way off, he misjudged it by a bit. We saw him later in round 2 with the buy backs. Because of the delays 2nd round didn't run until it was getting dark and getting much cooler. We were in line to run, strapped in with 2 pairs in front of us. When one of the door cars blew out both their front tires on the top end and we had a delay while they got that car off the track. At this point is where the crewchief made a tactical error. After clearing the track. drivers were called back to the cars to strap in and suit up. It was really cool at this point and I should have had Jules start the car to warm it up while getting strapped in....but I didn't. We pulled into the water box did our burnout and then staged the car when Jules got on the transbrake and floored the pedal, the car just went womp and died on the line. Our opponite had a easy win, and we had a tow back to the trailer. I think what happened was the engine didn't have enough heat in it when all that fuel came into the carb, when Jules gave it full pedal it just couldn't burn the fuel and flooded. Another lesson learned the hard way. But overall we had a ball and are ready for the next race. Below are a couple of pics and a video for those interested. :)
Jules going warm up the car, Jonathan & Chloe supervising.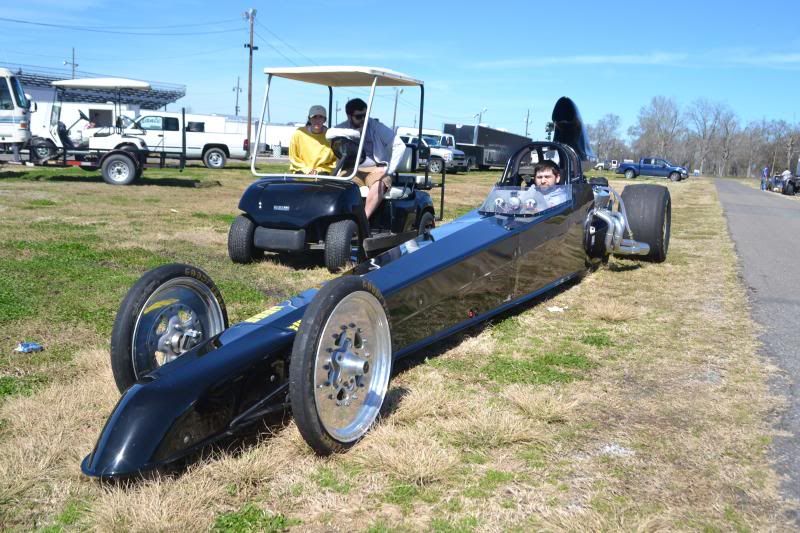 Jules vs Jesse Marceaux(another former Jr. racer)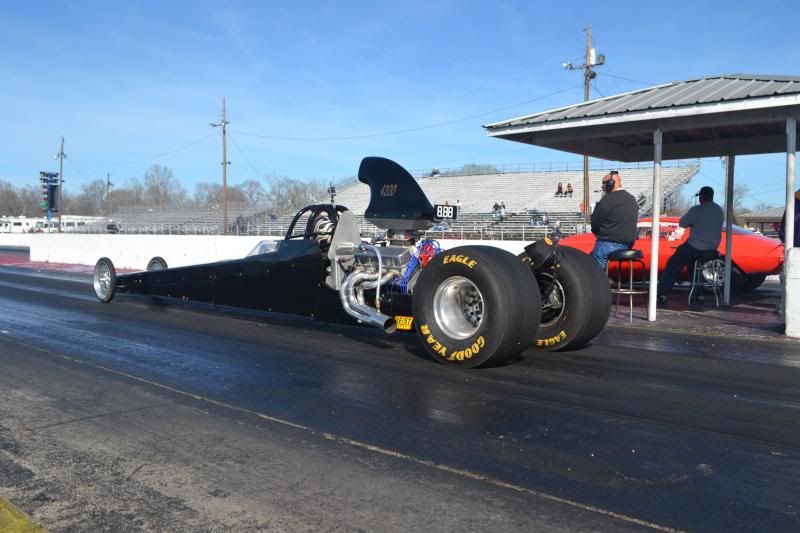 Jules Time trial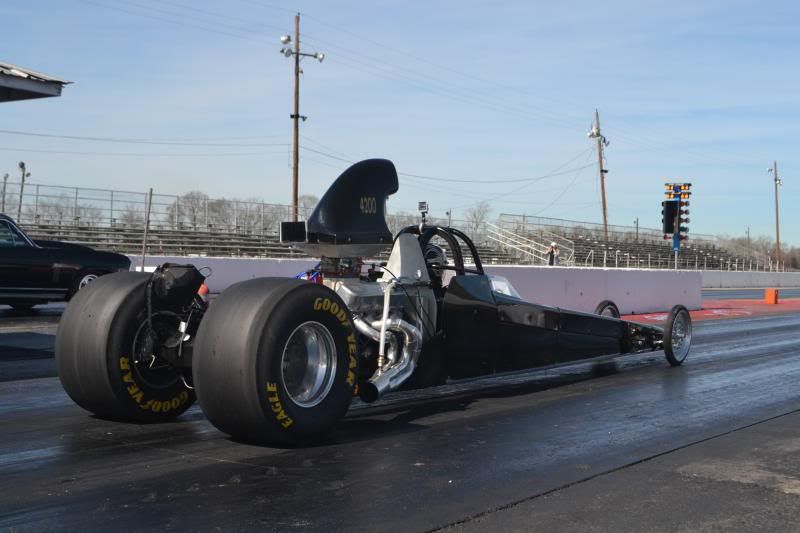 Video of time trial.
Time trial